Prof. (Dr.) M.A. Naqvi
Director General
Dr. Virendra Swarup Group of Institutions (VSGOI)
KANPUR, U.P.
Ph.D., M.Phil, MBA M.A. (Eco.), M.Com. – (Banking), L.L.B.CEM- (Germany) & CIS-(USA)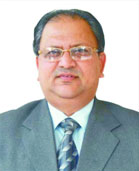 Prof. (Dr.) M.A. Naqvi, Director General, Dr. Virendra Swarup Group of Institutions (VSGOI), is Management Guru of International repute. He has been involved in providing business, entrepreneurial and communication solutions in different parts of the world and has more than two decades of experience in the field of Management Education, Research and Training. In the field of entrepreneurship, he was instrumental in implementing all over U.P. a One Year Course in Small Industries Management for U.P. Trade Promotion Authority, Directorate of Industries. As a faculty, he has not been only teaching MBA/BBA/MAMC/MCA/B.Tech. /BCA students but also pass outs of Indian Institute of Chartered Accountants (ICAI), New Delhi. He is credited with launching the first -ever program in export management in the state of Uttar Pradesh and one- year job oriented program in association with U.P. Trade Promotion Authority (UPTPA). Apart from active involvement in teaching, Prof. Naqvi has so far trained over 26000 persons. He has also conducted over 200 EDPs/ MDPs for MSME Development Institute, Govt. of India etc. He is a prolific writer and contributes regularly to leading newspapers. Prof. Naqvi has authored a book titled 'A clinical Approach to Advertising Management' and served as media adviser to Japan International Cooperation Agency (JICA), Govt. of Japan. He is also on the editorial board of 'Ahead' magazine, New Delhi, PR and Communication Age, Kolkata and 'Contemporary Academician' India's only journal on higher education. In July 2006, he visited Malaysia at the invitation of a leading B- School College to deliver lecture on Corporate Ethics and Values- An Indian Perspective. He has also visited Argentina, Holland, U.K., France, Brazil, Chile, Uruguay and Malaysia to deliver lectures on Indian style of management under a cultural exchange program. The Government of India has also nominated him as member of the Central Board of Workers' Education (CBWE). In 1997, he joined the Management College of Dr. Virendra Swarup Memorial Trust (One of the largest educational groups of North India), Kanpur as Professor. Since 1999, Prof. Naqvi has been working with College of Management Studies (Affiliated to U.P. Technical University, Lucknow since 1999. He is also recipient of prestigious 'Kanpur Ratna' award of All India Conference of Intellectuals.